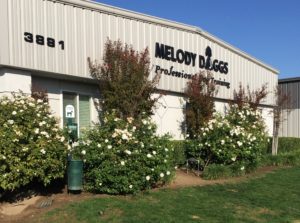 The facility is located at 3881 N. Ann in Fresno, California. You can rent the building by the hour or drop in on competition workshops. The building is fully carpeted, heated, and cooled, and comes with two 40' by 50' obedience rings with ring gates, obedience jumps, and rally equipment.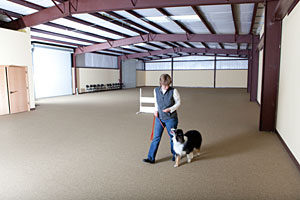 AKC Competition Obedience Practice Sessions
These practice sessions are for handlers who are preparing for AKC competition obedience. Check our calendar for dates and times of upcoming practice sessions. Advance reservations are not required for these workshops; please stop by and participate at your convenience. Practice Sessions costs and terms:
$8 for the first run, $6 for the second run, $5 for a third run.
Novice and Open participants will be allowed 10 minutes in the ring. Utility participants will be given 15 minutes. Practice time outside the ring is unlimited.
All participants must help judge, steward, and set up and remove jumps.
Individuals ($10 per handler per hour; no more than 2 handlers will be scheduled at the same time)
Groups ($8 per handler per hour)
Half day rental for established dog clubs ($100 for 4 hours)
Handlers must obtain permission to use the building from Melody Daggs Professional Dog Training. Each handler must sign a Building Use Agreement in advance. Building reservations are on a first come first served basis. The facility is for practice only and dog training by unauthorized trainers will not be allowed. Dog grooming on the premises is not allowed. Handlers will be financially responsible for any damages and/or cleaning that is required above and beyond normal wear and tear.
Call (559) 455-9019 to reserve the building or for more information. 
Call (559) 455-9019 to reserve the building or for more information. 
Click on the link below to download the Building Use Agreement.